Life has been a

whirlwind

lately with my whole family flying over to the UK and descending on my house at once. I'm sorry for being the worst blogger ever and NEVER updating!
Recent activities have included:
+ Lots and lots of delicious barbeques (saves washing up loads of pots and pans)! My favourite way to do chicken is to marinate it in soy sauce, honey and mustard, then baste generously with a thicker version of the marinade about 5 minutes before it finishes cooking on the barbeque. Really simple, no fiddling around with chopping and blending of herbs and spices and the sticky glaze you end up with is mouth-watering.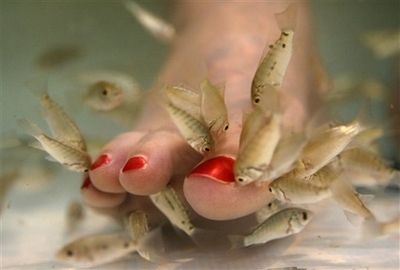 + Cashing in my Wahanda Mobdeal and going for the highly hyped Fish Pedicure at Aqua Sheko on Holland street (just off Kensington Church street). I have lots of pictures and will be doing a separate post on this with photos (and maybe even a video) but I'll give you a short breakdown: The staff were friendly and provided free green tea and water as well as a selection of purchasable Japanese themed drinks, although they seemed a bit TOO efficient for a place that is supposed to be offering a "spa" experience. I felt a little bit like I was on a production line, waiting to go through the water tanks! They definitely need some mood music – jazz, bossa nova, anything! - to ease the tension of strangers waiting to get their feet nibbled watching other strangers sitting opposite them on raised chairs with their feet being nibbled (and to cover up the *blub blub* noise from the fish tanks). The actual experience was very weird, definitely a novelty which eventually became more relaxing, and felt like painless pins-and-needles/a firm buzzing sensation and slightly ticklish (but I have ticklish feet!). Although there are a mixture of cute baby and more adult fish, the majority of my tank of fish were fairly mature, around 4-5cm long, so this is not for those who have a secret fish phobia… in case that wasn't obvious already :)
+ Being unimpressed with the high street sales as well as some of the "new" trends for A/W 2010. Shearling aviator jackets and capes? That's not new, ya'll just did those last winter!! I am, however, liking the idea of demi/kitten heels – my poor feet need a rest from all my unforgiving high heels!
+ Taking a relaxing holiday in sunny Swanage, chilling out in a darling beach hut and managing to get a tan in 2 days flat! Swanage is an English seaside town near Dorset and a short steam train ride away from Corfe Castle. I visited Corfe Castle, shamefully not mainly to see its namesake but to take a peek at the village's local newsagents featured in Mary Queen of Shops. It was given the Mary Magic and transformed into Cleall's – a charming village store (with an adorable arts n crafts room at the back!) selling local produce. A vast improvement, although the only thing I bought was some ginger beer!
How has everyone been lately? Enjoying their summers? I have another post coming right up after this to make up for the huge gap in posting :)