B. is for Beautiful
B. (B. is for Beautiful) is the newest Make-up and Skincare launch to hit the market and I was super excited to see a whole new range of goodies available for perusal by beauty addicts like myself! There's nothing like the feeling of swatching away happily in store and coming home with a bunch of new goodies to try out :) Wouldn't you agree?
The range is exclusively stocked by Superdrug and features everything from eyeshadow to foundation to gel eyeliner to serums to wrinkle fillers! It seems to be the Superdrug answer to Boots No.7 range but I personally like it even better. The colours seem more wearable, the foundations and formulas are carefully thought out and the packaging is slimline, subtlely branded and neutral.
As much as I would have liked to buy the entire range, just to try it out, I had to limit myself to match my budget! I decided to buy a range of products that came together as a whole "look" and I went for the naked, glowing skin, bronzy eyes, a peachy highlight and a wintry flush to the cheeks.
Scroll down for detailed reviews and images - I chose all the products carefully in store by swatching and testing for textures and payoff and I was really impressed by them all, especially at such an affordable price point - Yay!
--------------------------------------------
Here's what I decided on:
----------------------------------------------
REVIEWS
----------------------------------------------
Gentle and quick on the toughest of makeup - I'm so glad to have found an affordable British version of Bioderma!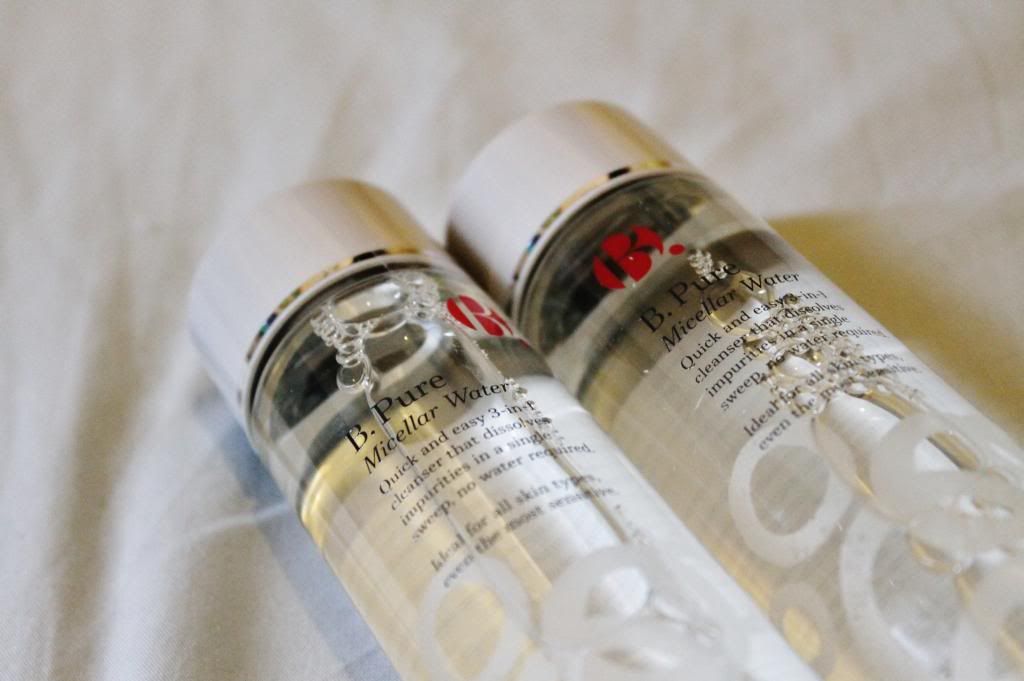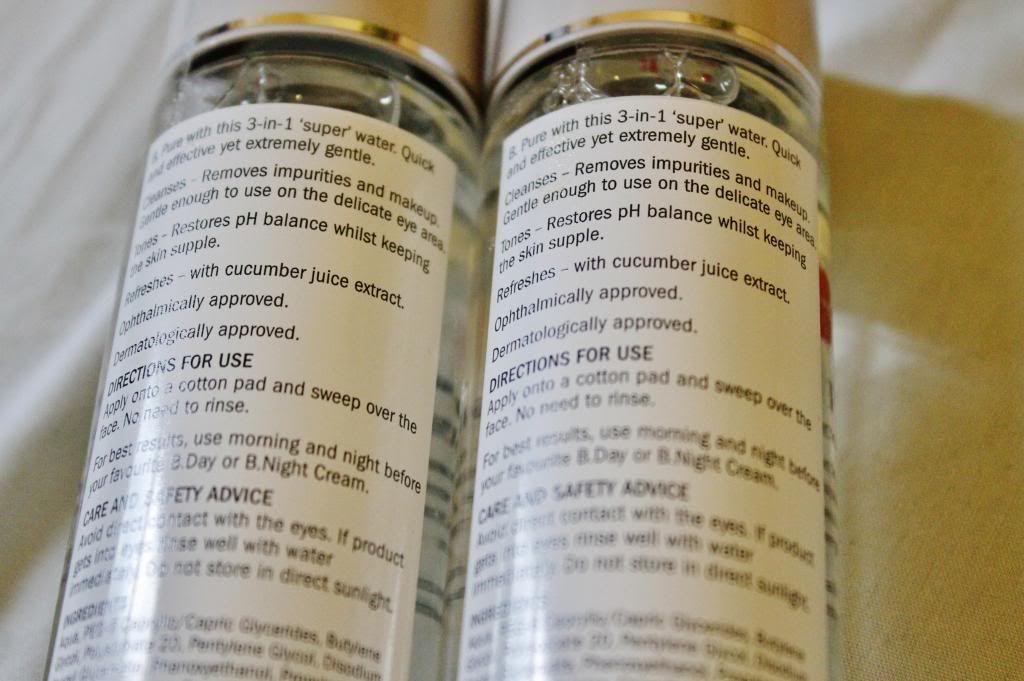 MAKE-UP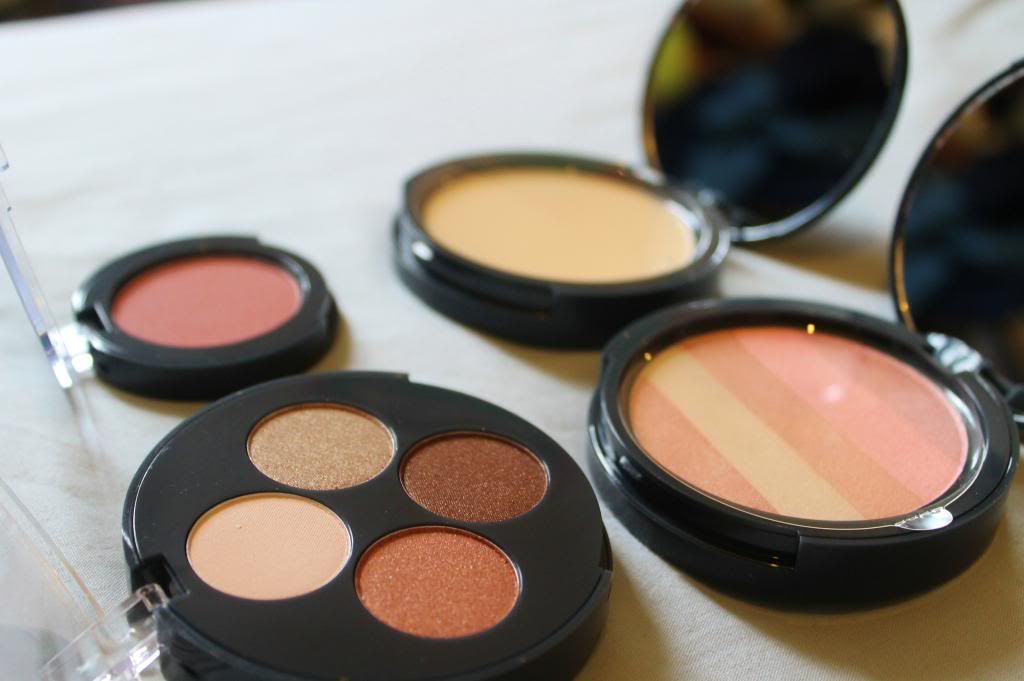 B. Set Sheer Finish Pressed Powder in Light 019
Light, not too powdery (don't you hate it when you touch powders with your brush and dust flies everywhere!) and leaves a natural finish to the skin. Not much more to say but it's a really decent powder. I'm also finding that the MASSIVE mirror,which fills the whole lid, is perfect for on-the-go touch ups!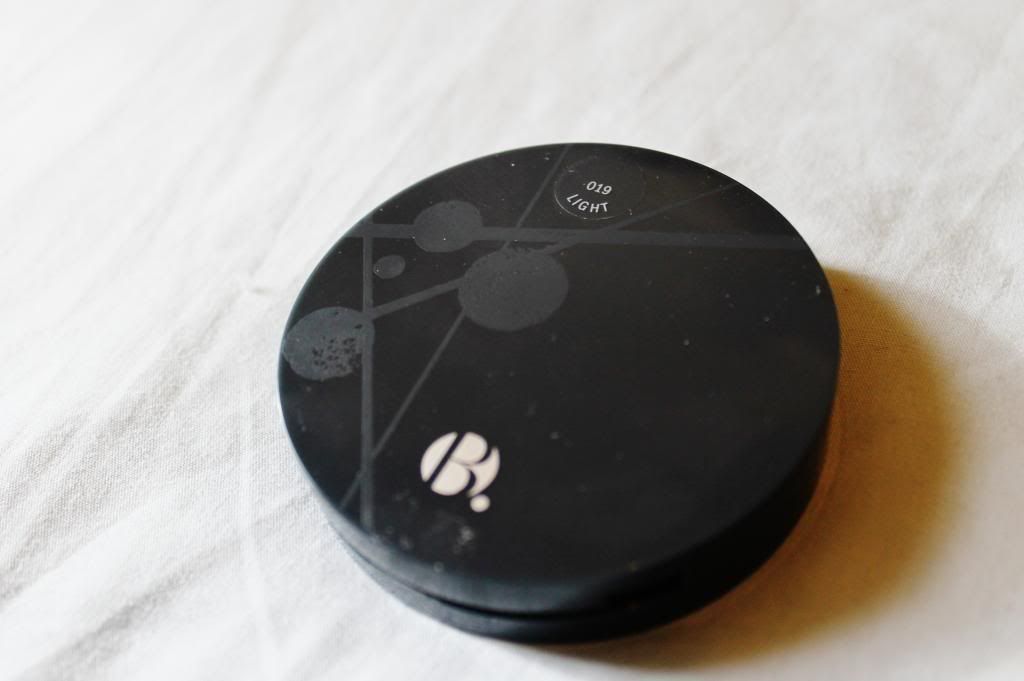 B. Glowing Shimmer Block in Just Peachy 161
Quite shimmery and frosty, definitely one to use with a light hand! I can see these shimmer bricks being perfect for both cheekbones or as eyeshadows. They definitely remind me of the Bobbi Brown Shimmer Bricks and I'm loving this one for a winter glow on the cheeks at the moment. Shimmer isn't just for summer! In fact, I prefer it in Winter when you can keep the rest of your makeup matte.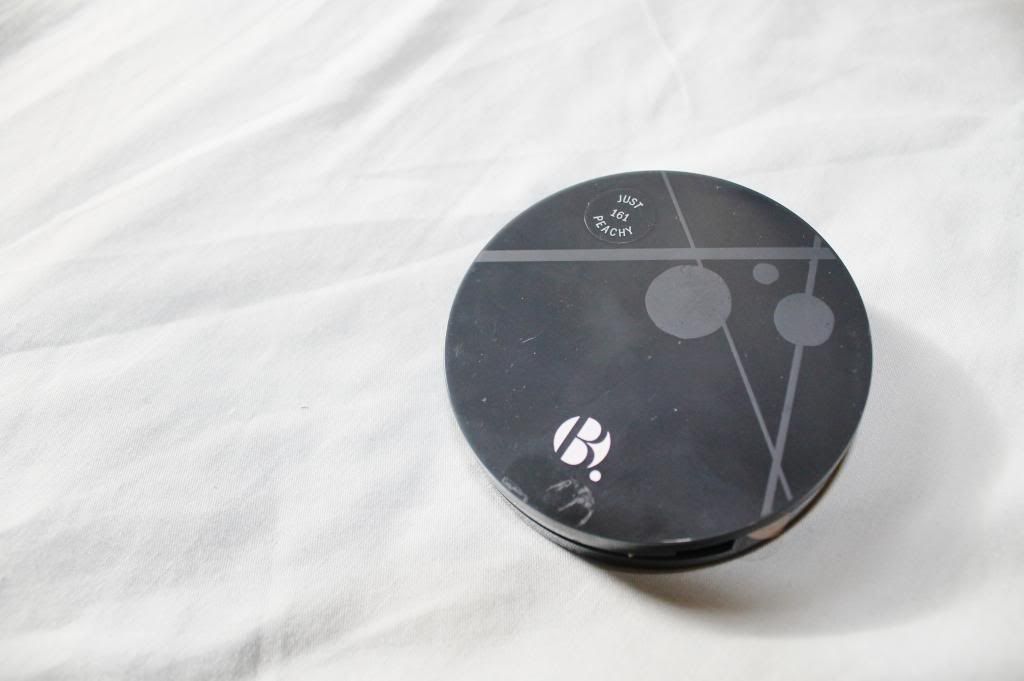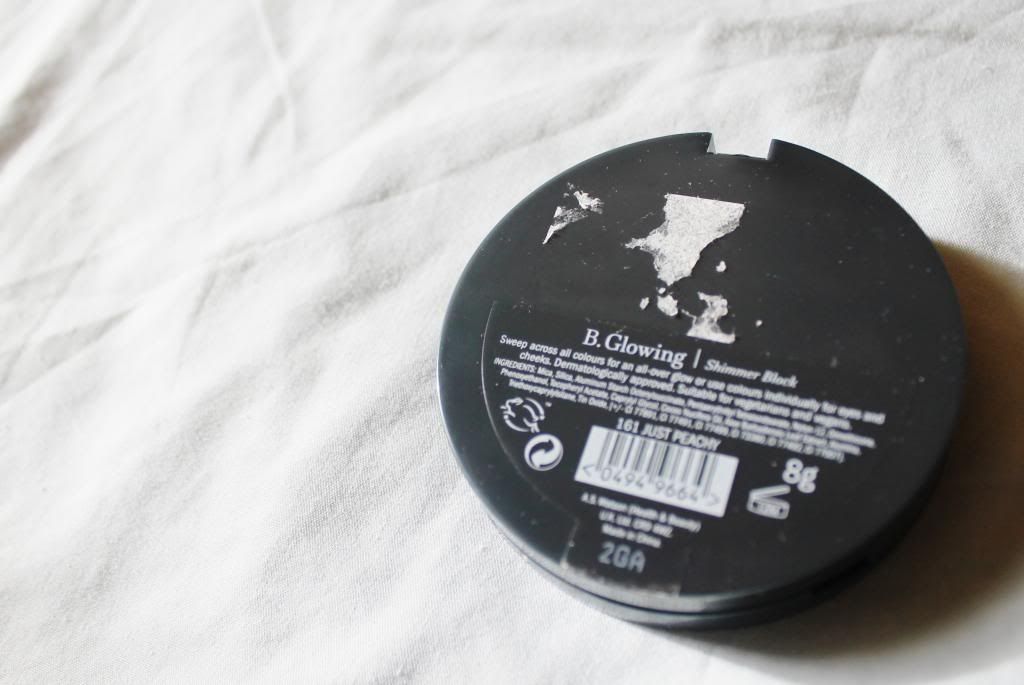 B. Cheeky Blusher in Rosy Brown 096
Love this little pot of joy!!! I chose the darkest colour available out of the collection but it's still super wearable. Unlike the sheer pressed powder (above), this is a smooth, almost creamy, easy to pick up on the brush kinda powder. Fortunately, it's also quite sheerly pigmented (no nasty surprises with stripes of blusher on the cheek) and imparts the skin with the most perfect of winter flushes. The pot is a bit small (I want more!) but I absolutely love this blusher!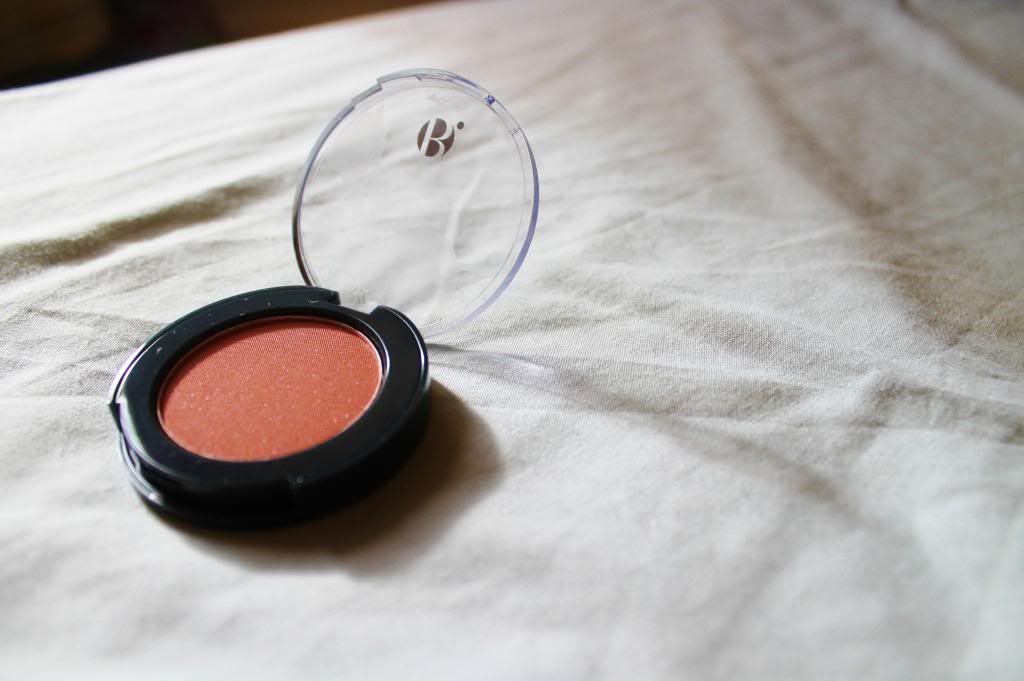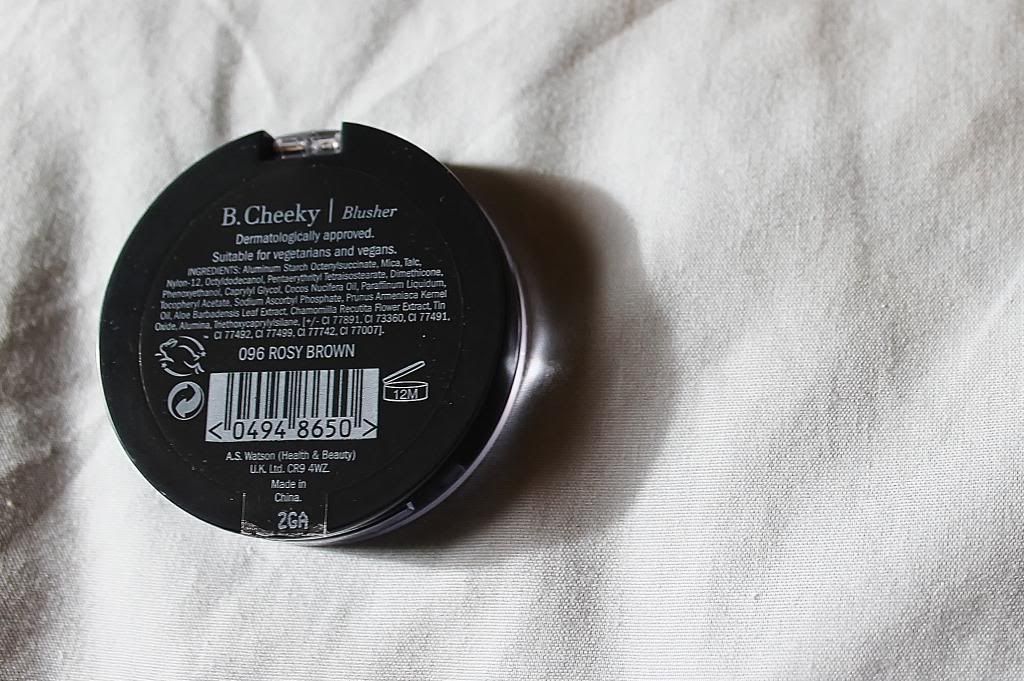 B. Complete Eyeshadow Palette in Glisten 132
Smooth and buttery in texture, these shadows are super easy to use - no chalky hard textures here! The pale matte is great for an all-over lid colour and the three shimmery bronze shades are individually gorgeous and great together too.
The bright copper looks almost orange on me and makes a great statement eye with the dark brown smudged along the lashline and finished off with lashings of mascara. The lighter, more neutral brown shade is one of the prettiest shades I've seen in a while and I can't wait to use it for an everyday eye with a slick of liner.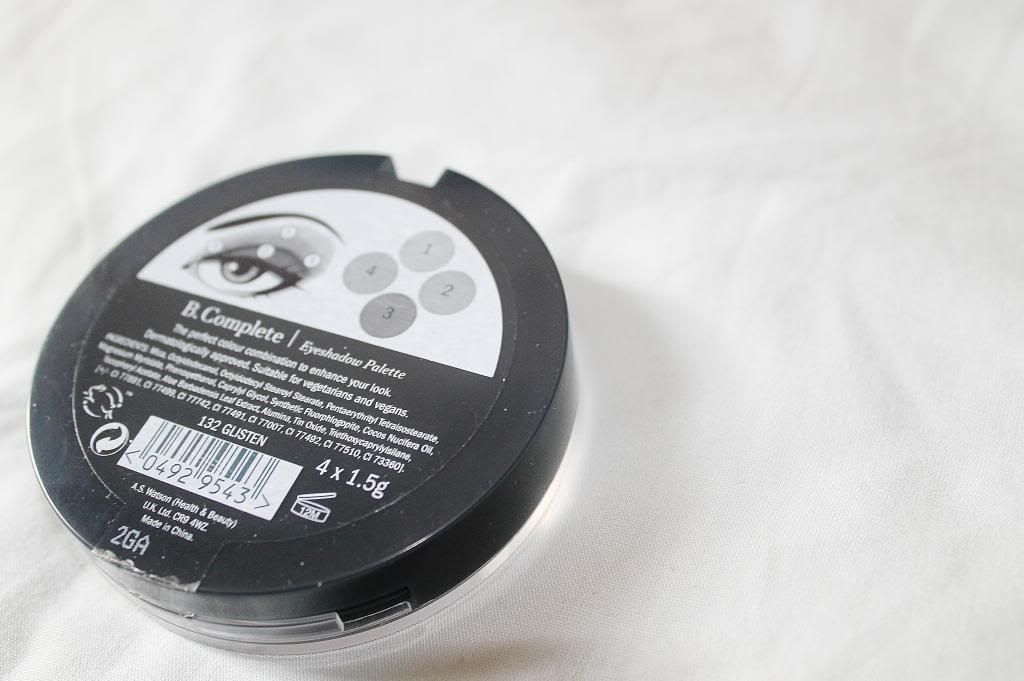 B. Naked Light Hydrating Foundation in Beige 030
The Pièce de résistance - I always judge a cosmetics line by it's foundation. None of this "Don't judge a book by it's cover" rubbish - I reckon that the way to tell the real quality of a cosmetics line is to see how much they've invested into their most basic products - the bases.
Did the B. Naked Light Hydrating Foundation pass my stringent foundation tests? I'm glad to say that it did!
It's a lovely light sheer foundation which applies great over moisturised skin. It has a light-medium coverage and a weird hybrid matte-sheer-natural finish. It's definitely not dewy but the skin still looks plump and fresh after application.
The colour Beige 030 is the 3rd darkest out of the line up and suits my fairly light complexion (somewhere around a MAC NW25/NC25). I'd say that the colours span quite a wide colour range but there aren't that many colours! Does that make sense? In other words, the darkest colour is quite dark (around NC/W40-50) and the lightest is very light (around NC/W5-10) but you don't have a myriad of shades in between - only 5 shades in total.
I'll be using this as my weekend foundation when I don't want the more dewy finish of my MAC Face & Body (still a great sheer foundation, especially for winter).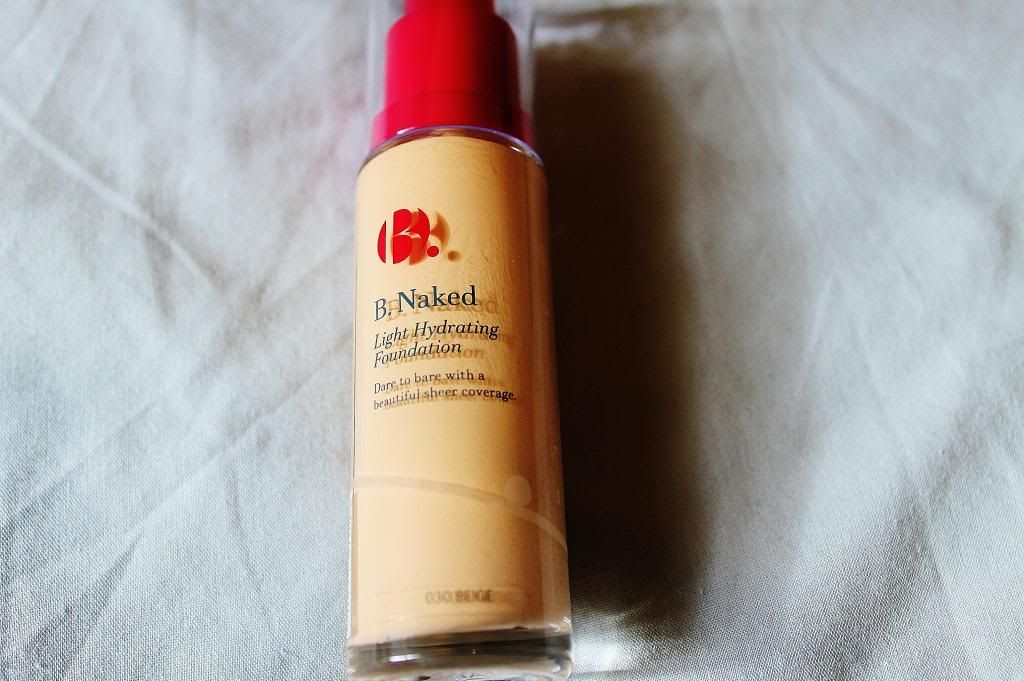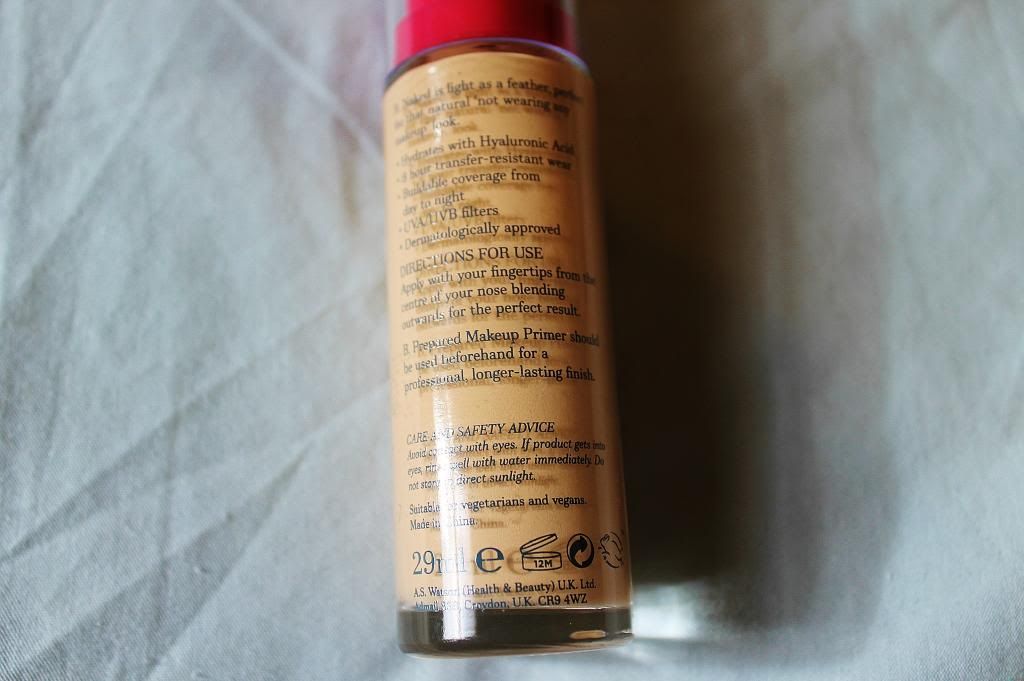 B. Smokey Soft Blendable Kohl Eyeliners in Emerald 103, Grey 141 and Plum 009
I have a TON of eyeliners so I wasn't expecting to be blown away by B.'s offering, I mean how groundbreaking can eyeliners be? However, I was pleasantly surprised by these B. Smokey liners.
They have lovely, workable soft textures that smudge easily with the built-in smudger (I do love a good built-in smudger) and the most subtley beautiful colours.
The emerald green is a glimmering peacocky showstopper, the plum is a beautiful and interesting accent as a liner and the grey is the most beautiful grey liner I have ever used!
I know that "beautiful grey" bit sounds ridiculous but there is such a big difference between a BLAH grey eyeliner and a OOOH one (which is this one).
It's a really flattering and perfect grey, not too black, not too charcoal, no brown or dirty undertones and just great for a smokey eye look. All you need is one eyeliner! Or add a bit of eyeshadow in for interest - e.g. I've used this with Fig. 1 from MAC, a matte purple and the effect was smokey gorgeousness.
(pictured from top to bottom: Emerald, Grey, Plum)
Last but not least... Animal friendly
A little known fact about all Superdrug own brand products (or at least I didn't know about this!) is that they are 100% BUAV approved. In other words, they are approved by Cruelty Free International as being completely animal friendly. No animal testing for these guys - just look for the bunny symbol on their products for reassurance. This means they are suitable for vegetarians and vegans.
The only other brand who can claim that they are this animal friendly are The Body Shop! Personally, I think it is a lovely little extra bonus that I can buy these products knowing that they are made cruelty free.
------------------------------------------------
Will you be trying out any B. products? Have you done so already? I've been so impressed by Superdrug's overhaul of their Beauty sections in loads of shops - I could browse in there for hours!
--------------------------------------------

Love,
Geisha
xoxo